1. Former Laser Spine Institute executive named CEO of spine device company: 4 insights
Full story
2.
Montana health system, orthopedic group pays $24M to settle kickback violation allegations: 5 things to know
3.
HCA, Dignity Health and Tenet among 1,299 providers to join BPCI Advanced
4. Bridge the gap and assure true interoperability with an enterprise imaging solution. For a breakdown of key enterprise imaging considerations, click here.
5. Revolutionizing ASC procedure documentation with AI and the Cloud - attend this special session at the Becker's ASC 25th Annual Meeting on Oct. 19, 12:20-1:20 p.m. To attend, contact Jessica Lanzon at jlanzon@beckershealthcare.com.
6. The Core Institute to open 10th Arizona clinic, sets sights on 11th: 5 things to know
Full story
7. Top 5 hospitals for spinal cord injury from spine specialists
8. What does it take to be a top revenue cycle performer? Register for this upcoming webinar to find out.
9.
Montana hospital under fire for rehiring nurse with child porn record
10. Spine surgeon leader to know: Dr. Tyler Koski of Northwestern Medicine
11. Ready to confront the financial risk of value-based purchasing?
Download this white paper
to learn how to improve the patient experience with healthcare's new digital front door.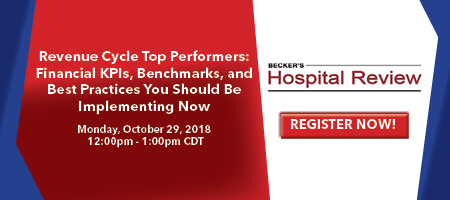 Companies to Know
Thank you to our sponsors