1. Stryker to pay $7.8M to settle SEC Foreign Corrupt Practices Act violation charge: 5 things to know
Full story
2.
The most impactful spine technology in the near future: 3 thoughts from Dr. A. Nick Shamie
3. Trinity Health forms new 5-hospital system
4. Having difficulties collecting on patient financial responsibilities? Register for this webinar to learn patient collections best practices.
5. Revolutionizing ASC procedure documentation with AI and the Cloud - Attend this informative session at the Becker's ASC 25th Annual Meeting on Oct. 19, 12:20-1:20 p.m. To attend, contact Jessica Lanzon at jlanzon@beckershealthcare.com.
6. Key mistakes young spine surgeons make & how to avoid them
Full story
7.
Zeiss introduces MIS visualization system: 3 things to know
8. To learn how to bridge the gap between medical device security and usability, register for this upcoming webinar.
9.
Wisconsin hospital improves patient safety after suspended nurse charged with abuse in NICU
10.
Drs. Jeffrey Wang, Lawrence Rinsky & more: 12 spine & neurosurgeons making headlines
12. Spine surgeon leader to know: Dr. Josiah Orina of OHSU
Full story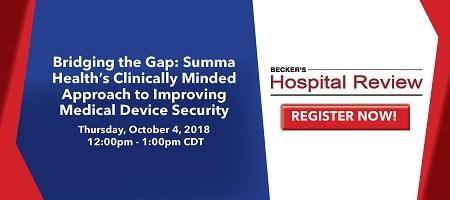 Companies to Know
Thank you to our sponsors