1. Medtronic adds to spine business with $1.64B acquisition of Mazor: 6 things to know
Full story
2.
Texas pain physician faces 10 years in prison for alleged healthcare fraud, denies accusations - 5 takeaways
3. Amazon-JPMorgan-Berkshire venture hires consulting firm: 3 things to know
4. Patients have become payors: How is your organization working to create new patient billing experiences? Find out what works during this upcoming webinar.
5. What are the best specialties for ASCs today? Find out at the Becker's 25th Annual Meeting: The Business and Operations of ASCs, Oct. 18-20 with 100+ sessions and 175 speakers. Register here. For exhibitor and sponsorship opportunities, contact Jessica Cole at jcole@beckershealthcare.com.
6. How an early-career spine surgeon sees his practice evolving: Q&A with Dr. Sheyan Armaghani
Full story
7. Rothman Orthopaedic Institute joins Aetna's New York network: 4 key points
8. Learn how the University of Vermont Health Network is transforming from a revenue-focused organization to a cost-focused one during this upcoming webinar.
9.
Steward closes Ohio hospital, lays off 468
10. SpineEx files for $17M IPO: 3 notes
11. Learn best practices to tackle pricing on knee and hip implants
Click here
12. Spine surgeon leader to know: Dr. Peter Gerszten of UPMC
Full story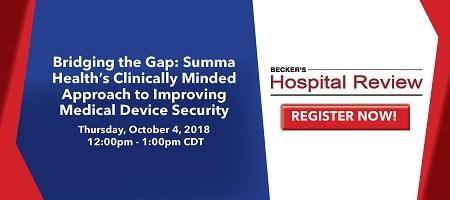 Companies to Know
Thank you to our sponsors