1. Spine technology adoption in a value-based practice - What's worth the investment? 3 Qs with Dr. Jesse Even
Full story
2. Benvenue Medical to focus on MIS spine, completes divestiture of vertebral augmentation systems: 5 key notes
3. Swedish Health Services cuts 550 jobs
4. Having difficulties collecting on patient financial responsibilities? Register for this webinar to learn patient collections best practices.
5. What are the biggest opportunities for ASCs today? Join the discussion at the Becker's 25th Annual Meeting: The Business and Operations of ASCs, Oct. 18-20 with 100+ sessions and 175 speakers. Register here. For exhibitor and sponsorship opportunities, contact Jessica Cole at jcole@beckershealthcare.com.
6. Stryker to purchase Invuity for $190M in 2nd acquisition deal in 2 weeks: 5 things to know
Full story
7. 1st cases performed with Life Spine's fixation system: 3 notes
9. How Hurricane Florence may affect CHS, Tenet, HCA and LifePoint
10.
3D-printed surfaces more osteogenic than plasma spray-coated implants, study finds
11. For tips on addressing rising costs, declining reimbursements and improving the patient experience, register for this
upcoming webinar
.
12. Spine surgeon leader to know: Dr. Theodore Fisher of Illinois Bone & Joint Institute
Full story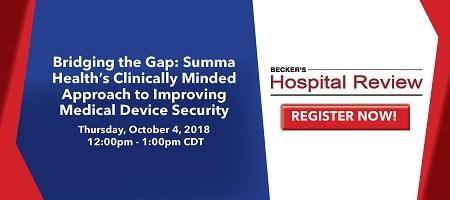 Companies to Know
Thank you to our sponsors