1. NuVasive names new CEO: 5 things to know
Full story
2.
Why Medtronic decided to go all in on robotic-assisted surgery & what to expect after the $1.64B Mazor acquisition: 6 Qs
3.
Ascension, Adventist Health System JV slashes outpatient sites by 50%
4. 3 ways to accelerate a bundled payment program. A new white paper by Regent provides a roadmap for physicians and ASCs to get to speed with the market.
5. PE firms continue to invest in orthopedic practices, Edgemont reports - 4 recent investments
Full story
6. Big advancements and opportunities for growth in complex spine surgery: Q&A with Dr. Tobias Mattei
8.
Kuros Biosciences seeks spinal fusion product expansion: 4 things to know
9. Hospital linens may be source of C. diff outbreaks, study finds
10. To learn how Geisinger improved financial performance with an overhaul of its approach to working with external vendors, register for this upcoming webinar.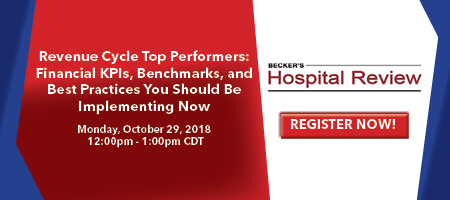 Companies to Know
Thank you to our sponsors