1. Missouri neurosurgeon, fiancee fined $5.49M in kickback case involving spine implant distributor: 5 things to know
Full story
2.
The big spine technology trends to watch & best advice from Dr. Thomas Scully
3. CHS subsidiary to pay $262M to settle fraud probe
4. Explore current trends and best practices in patient collections during this upcoming webinar.
5. To hear the best ideas for ASCs today, attend the Becker's ASC 25th Annual Meeting: The Business and Operations of ASCs, Oct. 18-20 with 100+ sessions and 175 speakers. Register here. For exhibitor and sponsorship opportunities, contact Jessica Cole at jcole@beckershealthcare.com.
6. Dr. Pablo Pazmino: Key thoughts on stem cells & new technology in spine
Full story
7.
Colorado hospital ousts CFO after 2 months
8. The EHR Imperative: Eliminating outages and combating cyberattacks can help improve patient care. Download the white paper.
9.
Medacta appoints US spine division general manager: 3 notes
10. 1st patients enrolled in NuVasive XLIF advanced material implant study: 3 notes
11. Having difficulties collecting on patient financial responsibilities?
Register for this webinar
to learn patient collections best practices.
12. Spine surgeon leader to know: Dr. Robert Remondino of Neuroscience Specialists
Full story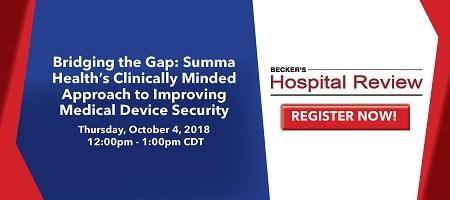 Companies to Know
Thank you to our sponsors