1. Medtronic makes Infinity OTC spinal system available in US: 4 key notes
Full story
2.
Colorado hospital lays-off orthopedic surgeon amid 'financial recovery': 5 things to know
3. CMS miscalculated MIPS payment adjustments: 4 things to know
4. The EHR Imperative: Eliminating outages and combatting cyberattacks can help improve patient care. Download this white paper.
5. Join 1,500 ASC physicians, administrators and colleagues at Becker's 25th Annual Meeting: The Business and Operations of ASCs, Oct. 18-20 with 100+ sessions and 175 speakers. Register here. For exhibitor and sponsorship opportunities, contact Jessica Cole at jcole@beckershealthcare.com.
6. 5 things to know about Dr. Richard Guyer, the spine surgeon who helped Tiger Woods win his latest tournament
Full story
7.
Rothman Orthopaedic Institute to open NYC location
8. Going opioid-free in the surgical setting - Hear tips for success during this upcoming webinar.
9.
Fewer people are dying from gunshots in Chicago: Stroger hospital is a big reason why
10. How orthopedics, spine will grow in ASCs from 4 surgeons
11. Having difficulties collecting on patient financial responsibilities?
Register for this webinar
to learn patient collections best practices.
12. Spine surgeon leader to know: Dr. Gordon Tang of East Bay Neurosurgery & Spine
Full story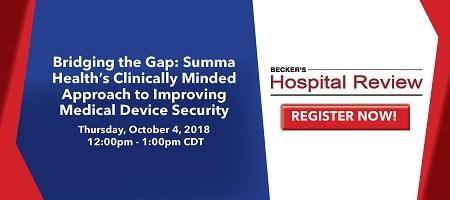 Companies to Know
Thank you to our sponsors