1. Orthopedic surgeon in California arrested for allegedly drugging, assaulting women: 5 things to know
Full story
2.
The biggest challenges in spine reimbursement today and the value-based solution
3. Cyberattack forces Indiana hospital to cancel elective surgeries, divert ambulances
5. What are the best specialties for ASCs today? Find out at the Becker's 25th Annual Meeting: The Business and Operations of ASCs, Oct. 18-20 with 100+ sessions and 175 speakers. Register here. For exhibitor and sponsorship opportunities, contact Jessica Cole at jcole@beckershealthcare.com.
6. Medtronic, Zimmer Biomet, Smith & Nephew & more: 15 device company notes
Full story
7. 32 hospital and health system CISOs to know | 2018
8. Learn best practices to tackle pricing on knee and hip implants Click here
9.
SeaSpine records $36.4M in Q2 revenue: 5 things to know
10. Neurosurgeon joins Geisinger Wyoming Valley Medical Center: 3 details
11.
Register for this webinar
to learn how clinical and IT teams at Summa Health worked together to improve medical device security and interoperability.
12. Spine surgeon leader to know: Dr. Michael Chang of Sonoran Spine
Full story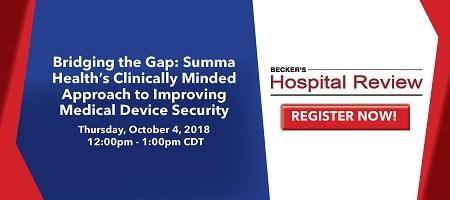 Companies to Know
Thank you to our sponsors