1. Where data analytics, precision medicine will take spine surgery: Q&A with Dr. Michael Verdon
Full story
2.
Globus Medical expands further into computer assistance, robotics with Surgimap acquisition: 5 things to know
3. Mark Zuckerberg to sell $13B in Facebook stock to help cure major diseases
4. Learn key strategies for success under bundled payments during this upcoming webinar.
5. What are the best specialties for ASCs today? Find out at the Becker's 25th Annual Meeting: The Business and Operations of ASCs, Oct. 18-20 with 100+ sessions and 175 speakers. Register here. For exhibitor and sponsorship opportunities, contact Jessica Cole at jcole@beckershealthcare.com.
6. Smith & Nephew to pay ConforMIS $10.5M in patent dispute settlement, licensing agreement: 4 key notes
Full story
7. SeaSpine records $36.4M in Q2 revenue: 5 details
9. Quorum closes Tennessee hospital
10. Dell Children's implements new 3D imaging system for spine surgery: 4 notes
11.
Join this webinar
for expert insights into best practices for patient collections.
12. Spine surgeon leader to know: Dr. Mauricio Valdes of Hedley Orthopedic Institute
Full story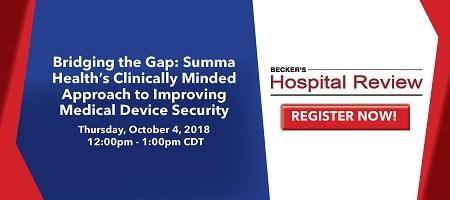 Companies to Know
Thank you to our sponsors